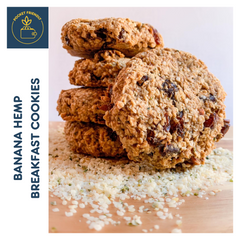 Every once in a while the craving for a cookie or something sweet hits us all.  Like many of you, we've shifted away from pre-packaged cookies in our home whenever we can (plastic sleeves in cellophane wrappers tucked into another outer layer...!).  Sometimes it isn't a craving, but an attempt to eat something substantial as we run out the door on our way to work/school/play.  Our Banana Hemp Breakfast Cookies have become a staple product in Unboxed Market's Café.
The best part about these cookies is that they are incredibly adaptable. Substitute coconut oil for olive oil,  you have on hand, add chocolate chips, or dried fruit, and more! 
You will need (click each item to add to your cart): 
Cooking Instructions:
Pre-heat oven to 325F. 
If firm, warm coconut oil to liquid (not hot)
Mix all ingredients in bowl until well blended
Use ice cream scoop (or deep spoon) to portion onto lined baking sheets
Press down and shape to 2cm thick
Bake for ~15 minutes, until edges are light brown
Let cool on sheets completely before transferring
Enjoy now or freeze for later.
Share your variations with us in the comments below!