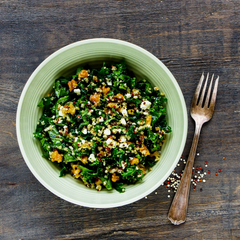 March is Nutrition Month, and this year marks 50 years of the campaign. The theme this year is "Fuel for the Future" - encouraging eating with sustainability in order to nourish ourselves and help protect the environment.  We reached out to our dear friend Stephanie Pimentel for some recipes that will keep you on budget, nourished, and supportive of our environment. 
This High Impact Quinoa Salad provides energy that lasts and lasts - stay fuelled on healthy eats!
Main Ingredients:
Dressing Ingredients:
Instructions:
Set a medium pot of lightly salted water to boil. Once boiling, add quinoa. Stir, reduce heat to simmer, cover and cook until water absorbed. Once cooked, fluff with fork and set aside to cool.
Prepare kale, cucumbers, red pepper, red onion and red cabbage. Place in a large bowl. Add walnuts and sunflower seeds to the bowl with vegetables. Mix well.
When quinoa has cooled add to bowl of vegetable and mix well.
In a small mason jar combine olive oil, tahini, water, minced garlic, lemon juice, salt and pepper to taste. Close lid of jar firmly and SHAKE SHAKE SHAKE!! Consistency should look creamy.
Combine dressing with quinoa vegetable mix, mix thoroughly and enjoy!

This is a FABULOUS lunch option, keeps well in the fridge for about 3 days.
Tips and Tricks:
I often make a large batch of quinoa to have ready in my fridge.
I toss it into anything! Salads, soups, stews, even my morning smoothie.