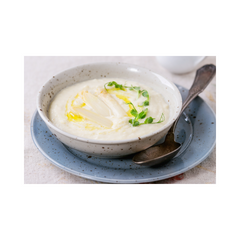 The constant changes of late winter weather make us all crave some warm comfort food. Grab your bowls and blankets and curl up with this simple yet hearty one-pot Chicken & Coconut Soup!
Ingredients:
Garnish:
Directions:
Add water, lemongrass, ginger, lime leaves & onion to pot. Bring to boil and let cook for approximately 5 minutes. Add chicken thighs, continue to boil until meat is cooked (~10-15 minutes). 
Remove chicken, set aside to cool. Strain soup (keep the liquid!!), return liquid to pot.  Cube or shred chicken (your preference), return to pot with lime juice and fish sauce. 
Add coconut milk and simmer for five minutes. Adjust seasoning as necessary. Serve with a drizzle of chilli oil and coriander leaves.